TEW February 1st, 2023 Translation and Accessibility in the Cultural Sector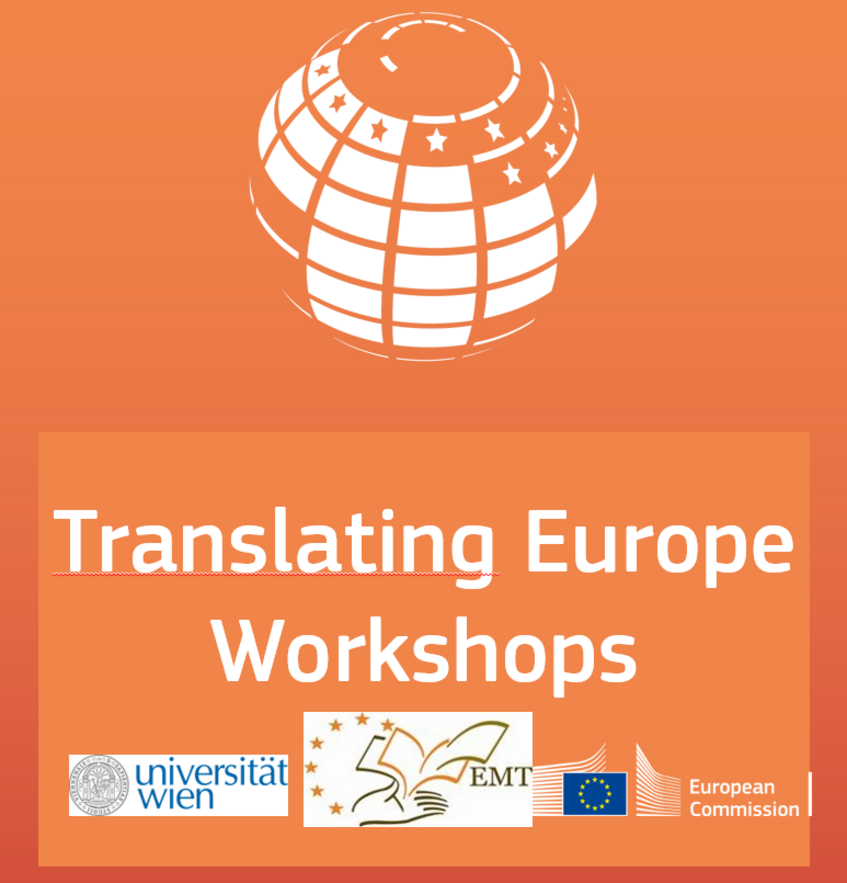 TEW February 1st, 2023 Translation and Accessibility in the Cultural Sector
The Centre for Translation Studies at the University of Vienna (ZTW) together with the Directorate-General for Translation of the European Commission (DGT) (Vienna Field Office), and in collaboration with the Constantine the Philosopher University in Nitra, Slovakia, Kaunas University of Technology, Lithuania, Instituto Superior de Contabilidade e Administração do Porto, Portugal (ISCAP), Università degli studi Internazionali di Roma, Italy (UNINT), and the University of Antwerp, Belgium invite you to the third Translating Europe Workshop (TEW) From Translation to Accessibility: EMT Train the Trainer Summer School, titled Translation and Accessibility in the Cultural Sector.
The workshop required no registration, was free to attend and took place online via Zoom on February 1st, 2023, from 9.30 to 18:00 (CET).
A recording of the workshop can be accessed on the Translating for Europe website: www.youtube.com/@TranslatingforEurope/videos
The TEW working language was English and no interpreting was available.
Description
How does a theatre director approach accessibility? Which linguistic challenges need to be tackled during an international theatre festival? How can a strategy document be translated into child-friendly language? Can audio description enhance an online guided tour experience for all? What are best practices for integrated audio description in dance performances? How does a translation trainer set up successful collaborations with the cultural sector? Join our workshop to find out answers to all the questions above, and much more! The workshop looks to bring together practitioners, commissioners, end users, and trainers from across Europe to investigate practical integrations and good practices in terms translation and accessibility in the cultural sector and institutions. The event is primarily aimed at translation trainers wishing to integrate or update cultural-sector inspired linguistic practices in their curriculum or research, as well as translation students and practitioners working in the cultural sector.
Programme
09:30 - 10:00 Welcome, Claudia Kropf, European Commission DG Translation, Univ.-Prof. Dr. Gerhard Budin and Alina Secară, Centre for Translation Studies, University of Vienna
10:00 - 10:50 Managing Interlingual Communication for an International Performing Arts Festival, Camelia Oană (Accredited Translator and Interpreter, Romania)
11:00 - 11:30 Devisualising the Museum: From Access to Inclusion, Lindsay Bywood and Jessica Beale, University of Westminster, UK
11:30 - 12:00 Break
12:00 - 12:50 Why Access Shouldn't Be An Afterthought: A Director's Journey in Creatively Integrated Access, Amy Leach, Deputy Artistic Director, Leeds Playhouse, UK
12:50 - 14:00 Lunch break
14:00 - 14:50 Writing Documents for Children with Children – Accessibility in Practice, Marta Kuljon, Directorate General for Justice and Consumers at the European Commission, and Beatrice Pacioni, Publications Office of the European Union
15:00 - 15:50 Accessibility to Cultural Spaces: Training and Good Practices, Emília Perez, Department of Translation Studies, Constantine the Philosopher University in Nitra, Slovakia, and Francesca Raffi, University of Macerata, Italy
16:00 - 16:50 Participation and Inclusion in Cultural Accessibility: Some Examples from Antwerp, Sabien Hanoulle and Nina Reviers, OPEN Expertise Centre for Accessible Media and Culture, University of Antwerp
17:00 - 17:40 The Story of how National Kaunas Drama Theatre in Lithuania Became Accessible and The Reverse Side of Accessibility of Audiovisual Production: Insights by the Company, Dainora Maumevičienė and Linas Kalėda, Kaunas University of Technology, Lithuania and Aktida
17:40 - 18:00 Closing
Abstracts and bios
Camelia Oană
As a BA student, Camelia Oană said yes to a volunteer translation project for an international performing arts festival in her hometown. The next year, she took her first shot at interpreting in the same festival. Two years later, she also brought her MA colleagues as volunteer translators and interpreters. For the last ten years, the Sibiu International Theatre Festival has been supported by a brilliant team of translators, sub/sur/supertitlers, interpreters and their technical team who make sure both local and international audiences taking part at theatre and artistic performances, as well as press conferences, Q&As and discussions, understand the intended message, laugh or cry at the same time.
Camelia Oană is a professional conference interpreter. Having always had a passion for communication, becoming an interpreter came naturally. She went freelance in 2014 and has since lent her voice to numerous projects in various fields of expertise. For over 10 years, Camelia led a brilliant team of translators, interpreters, and sub/sur/supertitlers, supported by a wonderful group of technicians, for the Sibiu International Theatre Festival (FITS).
Lindsay Bywood and Jessica Beale
Cultural heritage locations provide sites of learning, social interaction, cultural discourse, and they also play an important role in the enhancement of well-being. In recent years, museums and galleries have sought to address the need to make their collections and galleries accessible to blind and partially blind visitors by providing specialist audio description or touch tours. Audio description is widely used across film, television and theatre, but use in the heritage sector is limited. Where they are available, tours are provided as part of niche access provisions, run infrequently and require advance booking. This contributes to the marginalisation of blind and partially blind (BPB) people and means that spontaneous museum visits can be difficult, or impossible. Research has shown that audio descriptive techniques can enhance museum experiences in sighted people, and can provide opportunities for museum visits to be more inclusive.
This session presents two interdisciplinary projects, both of which have at their centre Hannah Thompson's concept of 'Blindness Gain'. This rests on three pillars: the idea that blind and partially blind people experience the world in a multi-sensory way that can promote creativity and stimulate imagination; a belief that non-visual living is an art, and the theory that accessibility approaches developed by and for blind people can benefit the sighted. Both projects are based at the Chelsea Physic Garden in London, and have teams consisting of academics and practitioners from Translation Studies, Psychology, Critical Disability Studies, and Museum Studies. Project one sought to create an online garden tour designed with AD principles at is centre and evaluate whether such a tour could provide not only access but also a positive experience for the entire audience. Project two is a PhD project building on this earlier work, examining the nature of the source text and the experience of visiting a historic garden, and exploring the co-creation and reception of audio description in this setting. The overall purpose of both projects is to test the hypothesis that audio descriptive techniques can improve the historic garden experience for all visitors.
Lindsay Bywood is a Translation Studies academic and practioner. She is currently Research Fellow on the AHRC-NEH funded project 'I don't see what you mean': Broadening participation through co-created inclusive digital museum audio, based at the University of Westminster, and also teaches translation, audiovisual translation, and professional development for translators at postgraduate level. Alongside this work, she acts as Public Relations Officer for Voice & Script International (VSI). She holds a PhD in subtitling from University College London, an MA in German and Philosophy from the University of Oxford, and an MA in Translation Studies from the University of Salford. Her research centres around audio description and inclusive design in various settings, with other research interests in the subtitling of German films into English, and machine translation and post-editing. Before becoming an academic she worked for many years in the audiovisual translation industry. She is Director of the European Association for Studies in Screen Translation (ESIST), a Member of the Chartered Institute of Linguists, and a member of the advisory committee for the Languages & The Media conference series.
Jessica Beale is a Doctoral Researcher at the University of Westminster. Her research explores innovative approaches to multisensory audio description in botanic, horticultural, and historic gardens. This includes evaluating audio description as a tool for inclusive design, exploring how research processes involving blind and partially blind participants can change and enhance audio description in this setting, and examining what type of language use is most effective in audio description, as well as how best to combine sensory description with contextual information. Jessica has a background in the heritage sector, having worked in the digital content team at the National Trust before starting her PhD. She also has experience of writing and designing digital learning courses in the commercial sector. She has an MA in Audiovisual Translation from the University of Roehampton, where she specialised in audio description for film/TV.
Amy Leach
Five years ago, theatre director Amy Leach hadn't given much thought to audio description, captioning, or sign language interpretation in her work. But a series of encounters, provocations and opportunities opened up a new creative pathway, leading to an explosion in her creative practice and the making of a variety of different theatre productions which integrated access as an integral creative layer.
This session will explore the journey of a director who has found her practice expanded and enriched in a thrilling new direction. She asks how, as theatre makers, can we see sign language, audio description and captioning, not purely as add-on access tools but as new creative possibilities? How might we go about exploring the creative opportunities of integrating access into our work? And who are the exciting new deaf and disabled collaborators with whom to make this happen?
After working across the UK for 15 years as a freelance director and facilitator, Amy joined Leeds Playhouse in 2017, where she is now Deputy Artistic Director and a key champion of creating accessible theatre. Amy's directing credits at Leeds Playhouse include Macbeth, Orpheus in the Record Shop, Don't You Know It's Going To Be Alright, Oliver Twist, There Are No Beginnings, Hamlet, Road, A Christmas Carol, Talking Heads, Queen of Chapeltown, Romeo & Juliet, Kes, The Night Before Christmas and Little Sure Shot. Amy has also directed work for Hull Truck Theatre, Sherman Theatre Cardiff, National Theatre Wales, National Theatre Studio, Gagglebabble, Wales Millennium Centre, Unicorn Theatre London, Library Theatre Manchester, The Egg Bath, Dukes Lancaster and Royal Exchange Theatre Manchester. Between 2003 & 2011, Amy co-founded and ran en masse, an award-winning touring theatre company which created work for young people and their families.
Beatrice Pacioni and Marta Kuljon
1 in 5 persons in the EU is a child. Worldwide, 1 in 3. And yet, only a small number of policy and legal documents are written in a child friendly language and are accessible for children with disabilities. Even if the legislation or policy directly affects their lives. In March 2021, the European Commission adopted an EU Strategy on the rights of the child. Children were consulted on the strategy and shared their views about what is important, what are the challenges they face and what could be done to protect and promote their rights better. They said that they would like to know what is decided about their lives. Hence, the strategy was "translated" into three child friendly and accessible documents. Why three? How was it done? What does it mean that they are accessible? Beatrice Pacioni from the Publication Office of the EU and Marta Kuljon from DG Justice and Consumers will answer these and more questions during the workshop.
Beatrice Pacioni is a professional graphic designer and leads a team of designers at the Publication Office of the European Union. Beatrice did her first accessible job back in 2014 when she created a series of leaflets for the EU Agency for Fundamental Rights inviting the audience to vote for the European Parliament elections. Since then, she has been passionate about accessible publications. In addition to her daily design tasks, Beatrice continues to develop her InDesign knowledge and skills in the creation of accessible PDFs and in their remediation. She delivers training courses on the topic to other designers in the European institutions. Beatrice joined the Publications Office at the end of 1991 in Luxembourg after studying graphic design and advertising in Italy. She loves travelling, reading, cooking and spending time with her cat.
Marta Kuljon works in the rights of the child team based in DG JUSTICE and CONSUMERS, European Commission. Her focus is especially on child participation, child safeguarding, protection of children in migration and communication and outreach activities, such as the annual Forum on the rights of the child and the rights of the child newsletter. Prior to joining the Commission, she worked on combating trafficking in human beings and migrants' integration at the International Organisation for Migration and in the Ministry of Foreign Affairs in Poland. She graduated in political science at the University of Warsaw. She loves dancing, sending cards to friends and marshmallows.
Emília Perez and Francesca Raffi
The purpose of the workshop is to showcase the full range of processes and tools required to implement accessibility in the field of media, arts, and culture. The main focus lies on provision of access to cultural spaces and live events, introducing relevant national and international legislation currently in force, standards, projects, training programmes, and good practices in Europe and beyond. Based on their own training experience, speakers provide guidance on how to initiate, design and implement accessibility training in the area while cooperating with creative teams and target audiences.
Emília Perez is an Associate Professor at the Department of Translation Studies, Constantine the Philosopher University in Nitra, Slovakia. In both research and training she focuses on audiovisual translation and media accessibility in creative settings, translator competences and business administration in translation. She has cooperated with several film festivals, creative organisations and dubbing studios as a translator, project coordinator and accessibility advisor. She has also participated as an invited expert and trainer for several domestic and international initiatives and organisations, e.g. the One World Film Festival 2020-2022; the Directorate-General for Translation of the European Parliament, Luxembourg (2020-2021); and the Directorate-General for Education, Youth, Sport and Culture of the European Commission, Brussels (2021).
Francesca Raffi is a Senior Research Fellow in English Translation at the University of Macerata where she has been teaching English language and translation at undergraduate and postgraduate levels since 2015. She holds a PhD in English for Special Purposes and Audiovisual Translation from the University of Naples Federico II and she is a Chartered Linguist of the Chartered Institute of Linguists (UK). Since 2010 she has worked as a professional translator mainly in the field of audiovisual translation and accessibility to media, arts, and culture. Since 2016, she has been collaborating with the Department of Modern Languages and Cultures, University of Liverpool (UK), where she became an Honorary Fellow in 2019.
Nina Reviers and Sabien Hanoulle
A resolve to increase awereness about (media) accessibility, leads researchers to interdisciplinary approaches where a close collaboration with various stakeholders is fostered. A key idea that is gaining ground in this respect, is participation - people with the lived experience of disability should be included as beares of valuable knowledge who can contribute a unique perspective, as the blind scholar Georgina Kleege invites us to do, that is enriching for all. The OPEN Expertise Centre for Accessible Media and Culture of the University of Antwerp tries to embrace this view, by conducting participatory projects, three of which we will present today. They have been realized together with experts by experience, artists with and without disabilities and students in translation. The first one is called A Touch of Museum to Scale, and includes the development of a multisensorial guide for a selection of art works: inclusive audiodescriptioin, sign language, poetic sign language, subtitling, sound scapes and two artistic objects for tactile exploration. The second one is the Theatre Tablet project, which consists of a tablet providing theatre visitors with pre-recorded audiodescription, sign language and subtitling for the Deaf and the Hard of hearing, all on one device. The third one is the Isomo project, where integrated audiodescription is being created for a dance performance created by a diverse dance company.The writing process involves sighted and non-sighted audiodescribers and dancers. The projects are integrated in our teaching activities through Ba and Ma theses, as best practice examples and exercises.
Nina Reviers (University of Antwerp) is a tenure-track professors in Audiovisual Translation and Media Accessibility at the Department of Applied Linguistics, Translators and Interpreters. She holds a PhD in Translation Studies (University of Antwerp, 2018) in the field of Audio Description, for which she was awarded the EST Young Scholar Prize in 2019. Her research addresses linguistic and multimodal aspects of audio description, computer-aided translation of audio description, integrated access for the (scenic) arts and technology for access. As manager of the OPEN Expertise Centre for Accessible Media and Culture, Nina fosters a close collaboration with stakeholders as a key factor in her research and teaching activities. She is editorial board member of Journal of Audiovisual Translation, member of esist and steering committee member of the Languages and the Media conference series.
Sabien Hanoulle (University of Antwerp) is a lecturer in Translation at the Department of Applied Linguistics, Translators and Interpreters. She holds a PhD in Translation Studies (University of Antwerp, 2017) in the field of Audiovisual Translation and Terminology. Together with Nina Reviers, she coordinates the OPEN Expertise Centre for Accessible Media and Culture and conducts various projects in Media Accessibility.
Dainora Maumevičienė and Linas Kalėda
Accessibility of information in general, not only audio-visual production, has become of the key significance with an aim to provide it for the users/customers, however at the same time to increase the internationalisation and return on investment of many companies. The theatre is no exception as well due to the fact that it can introduce culture to foreign visitors and guests of some country but also Lithuanians with special needs. This presentation aims to describe an actual case of simultaneous interpreting into the English language in the National Kaunas Drama Theatre which is one of the oldest and leading drama theatres in Lithuania. The project started in 2015 with the participation of translators and interpreters (teachers and students) from Kaunas University of Technology with an aim to provide access to the theatre and its production, which later developed into surtitling and audio-descriptions and other projects. Challenges and lessons learned are discussed as well as competences of future translators and interpreters are touched upon.
Dainora Maumevičienė is associate professor and EMT head at the Faculty of Social Sciences, Arts and Humanities of Kaunas University of Technology (Lithuania). Her research interests include translation studies, translation history, translation technologies, localisation and Lithuanisation, modern didactics in translation interpreting and teaching. She is currently involved in an international research project concerning the gamification of study courses for students of translation. She also works as a translator and interpreter at the National Kaunas Drama Theatre.
Aktida (www.aktida.com) is one of the leading in audio post production services, such as dubbing, voice-over, translation, advertising for cinema and television companies. The company has been working with the major cinema and television companies in Lithuania and has a long expertise of practising in the market. Accessibility is one of the key issues for the company as well, however, sometimes it is more on non-accessibility due to the decisions of audiovisual production owners. The company representatives are going to shed some light on the other side of the issue of accessibility.
Scientific Committee
Alina Secară (ZTW), Dragoş Ciobanu (ZTW), Claudia Kropf (DGT), Dainora Maumevičienė (Kaunas University of Technology), Sandra Patrícia Marques Ribeiro (ISCAP), Emília Perez (Constantine the Philosopher University in Nitra), Annalisa Sandrelli (UNINT), Gert Vercauteren (University of Antwerp).