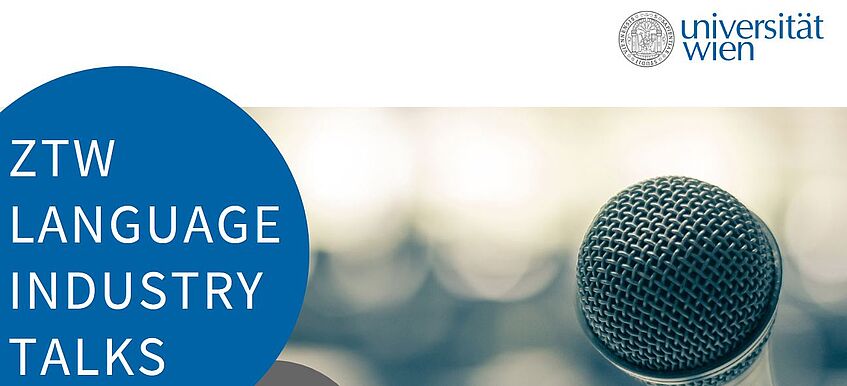 ZTW Language Industry Talks
The University of Vienna Centre for Translation Studies (ZTW) is delighted to announce the third round of Language Industry Talks, in which guests from the translation services industry will offer their perspective on the industry, the impact of technology, as well as the skills needed to succeed as a (freelance) translator, reviser, and project manager, providing useful advice for current ZTW students.
The talks will be held in person at the ZTW or online via Zoom.
In the case of an online event, the Zoom details will be circulated to ZTW students before the respective session.
28 November 2022 – 9:45-11:15 (ECB presentation) and 11:30-13:00 (English editing workshop) CET

Working as a linguist at the European Central Bank (talk in English)

Pauline Pitcher, Markku Haverinen, and Peter Wilkinson - European Central Bank

Did you know that the European Central Bank (ECB) in Frankfurt has a Language Service with over 100 linguists working in all official languages of the European Union? We make sure that the ECB's published communications are clear, understandable and impactful. The work we do is varied and interesting, and our input is increasingly valued. So don't be put off at the thought of specialising in banking, finance and economics. We will describe what it is like to work as a translator or editor in the ECB's Language Service, covering the typical profile of our linguists, the varied day-to-day tasks and texts we work on, our focus on editing, how we learn on the job and the tools of our trade. We will also give you some information about our traineeships, as well as tips on how to apply and prepare for the selection process.

Audi Max, ZTW, Gymnasiumstrasse
29 November 2022 – 9:45-11:15 CET

The Past, the Present, and the Future of Translation: Where are you and where you want to be

Cedomir Pusica, Marketing Manager, memoQ Translation Technologies Ltd.

In this lecture, we will touch upon some past developments to understand the present and anticipate what the future may hold for translation professionals or language professionals at large. We will talk about the technology that is available nowadays, with a special focus on memoQ and how it fits in the overall localization workflow. We will also explore machine translation and its benefits and seek to understand the general direction in which the industry is moving and how you can use that to your strategic advantage.

Hörsaal 6 Franz-Klein-Gasse 1 EG AE.27, ZTW
2 December 2022 – 15:00-18:00 CET
The Global Content Industry – Translating in the era of the Metaverse (talk in German)

Begoña Guzmán-Varas (Senior Project Manager and Terminology Specialist at Eurocom Translation Services)
Klaus Fleischmann (CEO of Kaleidoscope and Eurocom)
Why is the localisation industry an attractive and highly interesting future market? How do AI, MT, SEO and other trends affect the translation industry? What does the day-to-day business at a modern LSP look like? All of these and any further questions will be answered by Begoña Guzmán-Varas, Senior Project Manager and Terminology Specialist at Eurocom Translation Services, and Klaus Fleischmann, CEO of Kaleidoscope and Eurocom in this exciting pre-weekend presentation.
Hörsaal 4, ZTW, Gymnasiumstrasse