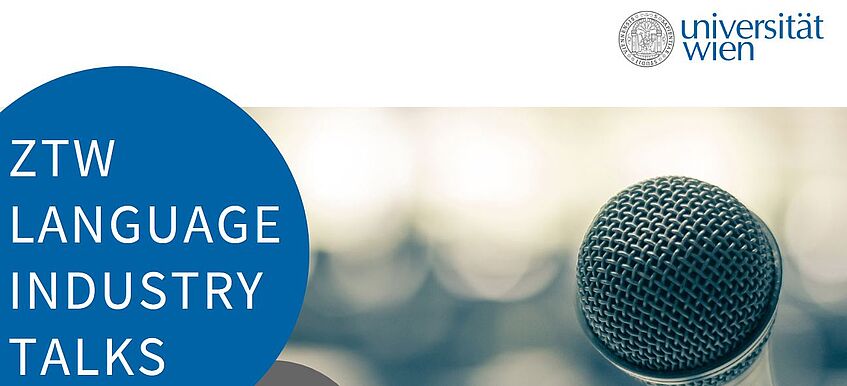 ZTW Language Industry Talks
The University of Vienna Centre for Translation Studies (ZTW) is delighted to announce the second round of Language Industry Talks, in which guests from a wide range of areas in the translation services industry will offer their perspective on the industry, the impact of technology, as well as the skills needed to succeed as a (freelance) translator, reviser, and project manager, providing useful advice for current ZTW students.
The talks will be held online via Zoom or in person at the ZTW.
The Zoom details will be circulated to ZTW students before the respective session.
A summary of the talks held in the 2021/22 winter semester can be found here.
7 March 2022 - 15:00 - 16:30 CET
Working at an LSP
Daniela Denk (talk in German)
Translation Line Manager at RWS Group
Zoom link
4 April 2022 - 15:00 - 16:30 CET
Setting up as a freelancer
Katia Iacono (talk in German)
Freelance Interpreter and Translator / PostDocResearcher and Teaching Assistant at ZTW
Lecture Hall (Hörsaal) 2, ZTW,
Gymnasiumstrasse 50, 1190 Vienna
You can find the slides for the talk here.
9 May 2022 - 15:00 - 16:30 CET
Software Localization with a personal touch
A. Mansour Bavar (talk in English, Q&A in English/German)
Localization Manager at Yoti
Hybrid session:
Zoom & Audimax, SR 3
Gymnasiumstrasse 50, 1190 Vienna
30 May 2022 - 15:00 - 16:30 CET
Translation in a university context
Carmela Welge (talk in German, Q&A in English/German)
Translation Coordinator at the University of Duisburg-Essen
Zoom Link
9 June 2022 - 17:00 - 18:00 CET
Perspectives on current machine translation development and implementations
Kirti Vashee (talk in English)
Language Technology Evangelist at Translated
20 June 2022 - 15:00 - 16:30 CET
How to do Things with Machine Translation: The Road from Technology to Business
Nicola Poeta (talk in English)
Service Line Leader - Global Content at STAR7
Hybrid session:
Audimax, SR 3
Gymnasiumstrasse 50, 1190 Vienna