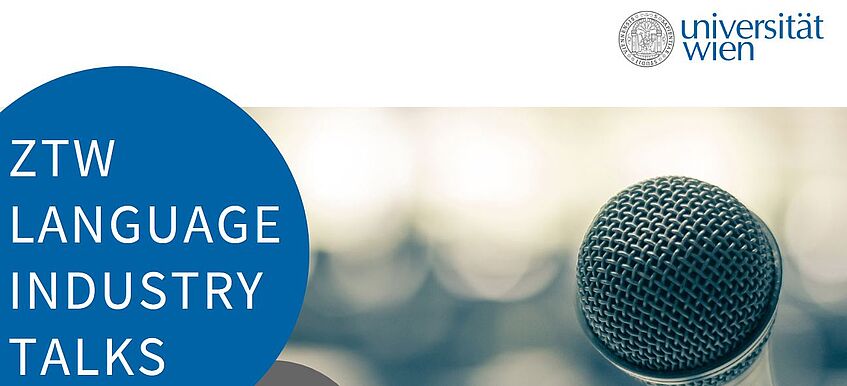 ZTW Language Industry Talks
The University of Vienna Centre for Translation Studies (ZTW) hosted the second round of Language Industry Talks, in which guests from a wide range of areas in the translation services industry offered their perspective on the industry, the impact of technology, as well as the skills needed to succeed as a (freelance) translator, reviser, and project manager, providing useful advice for current ZTW students.
The talks were held online via Zoom or in person at the ZTW.
A summary of the talks held in the 2021/22 winter semester can be found here.
7 March 2022 - 15:00 - 16:30 CET
Working at an LSP
Daniela Denk (talk in German)
Translation Line Manager at RWS Group


4 April 2022 - 15:00 - 16:30 CET
Setting up as a freelancer
Katia Iacono (talk in German)
Freelance Interpreter and Translator / PostDocResearcher and Teaching Assistant at ZTW
Lecture Hall (Hörsaal) 2, ZTW,
Gymnasiumstrasse 50, 1190 Vienna
You can find the slides for the talk here.
9 May 2022 - 15:00 - 16:30 CET
Software Localization with a personal touch
A. Mansour Bavar (talk in English, Q&A in English/German)
Localization Manager at Yoti
30 May 2022 - 15:00 - 16:30 CET
Translation in a university context
Carmela Welge (talk in German, Q&A in English/German)
Translation Coordinator at the University of Duisburg-Essen


9 June 2022 - 17:00 - 18:00 CET
Perspectives on current machine translation development and implementations
Kirti Vashee (talk in English)
Language Technology Evangelist at Translated
20 June 2022 - 15:00 - 16:30 CET
How to do Things with Machine Translation: The Road from Technology to Business
Nicola Poeta (talk in English)
Service Line Leader - Global Content at STAR7